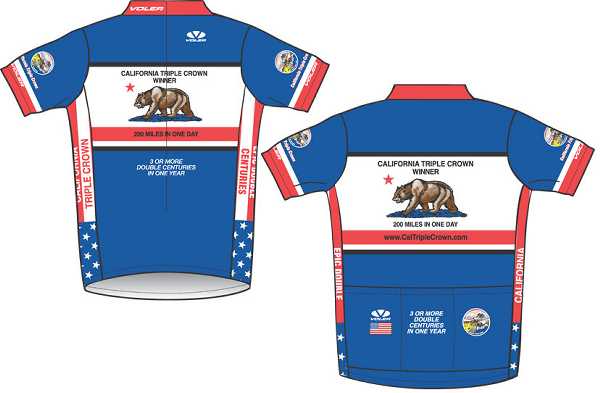 I've envied my friend Ron's California Triple Crown jersey (awarded by the folks over at
caltriplecrown.com
) for a long time now. I want one, but apparently you have to actually ride the three double centuries in one year to get one.
I'm thinking about going for it in 2010. I guess I think posting the possibility may be a first step in making it a reality. I'm pretty much a non-athlete, and my
biological clock it ticking loudly
. If I'm going to ever do this stuff I better do it soon, as in next year.
I've done the Davis Double the last two years, which I'm proud of.
Over 130 DNFed this year
, so I'm not at complete bottom of the pack. Just close. I think if I focus
maybe
I can pull this off.
Here's what I'm looking at:
Solvang Double
in March
Davis Double
in May
After that I'm not sure. I don't want to drive to LA for the weekend, though there are rides that look do-able there. And I freely admit I'm trying to pick rides I might be able to actually finish. That leaves out the
Devil Mountain Double
, as well as many others.
So I'm thinking number 3 should be
Eastern Sierra
(though this year the weather was brutal) in June
or
Bass Lake Power House
, in October.
UPDATE 10.10.09:
I'm adding the possibility of Knoxville to the list. It seems like a lot of climbing, but you do get 19 hours to complete it. I do like that it's close to home. If the weather isn't a problem it sounds possible!
The questions at hand:
1: Good idea?
2. Right ride picks?
3: Any one else thinking doubles next year?
4. Any one else thinking Triple Crown?
5. Thoughts, snarky comments or cheap shots?